This is a great post from Samuel Miranda of the Search Engine Journal…..
Sticking social buttons – Facebook, Twitter and social bookmarking icons – at the top of articles can help spread your content organically, and also help with general SEO. Too many of them and your website can start to look messier than a Yahoo toolbar from the early 2000′s.
Too many choices can also dilute the impact of the most important platforms. Here, we take a look at the most popular social buttons, explaining our decision process when selecting the relevant buttons to use on our casino portal website, roulette.co.uk.
Facebook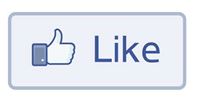 With over 1.1 billion users and counting, Facebook is by far the most widely used social networking tool. It is also the platform that sees the highest levels of engagement by active users. While some users might have reservations about sharing gambling-related content via this platform (due to the likelihood that family members and employers might see it), the sheer weight of numbers makes the decision to include a Facebook 'like' button a no-brainer.